In 2018, I created the facebook page LIST OF INTERNATIONAL VIDEO MAPPING OPEN CALL & CONTEST 2023 for digital artists from all around the world to share information about International projection mapping #contest and #lightfestival. I actively participate on this this kind of competitions since 2015, I try to analyse what happens every year in this community.
We share information about 43 festivals this year almost twice more than last year !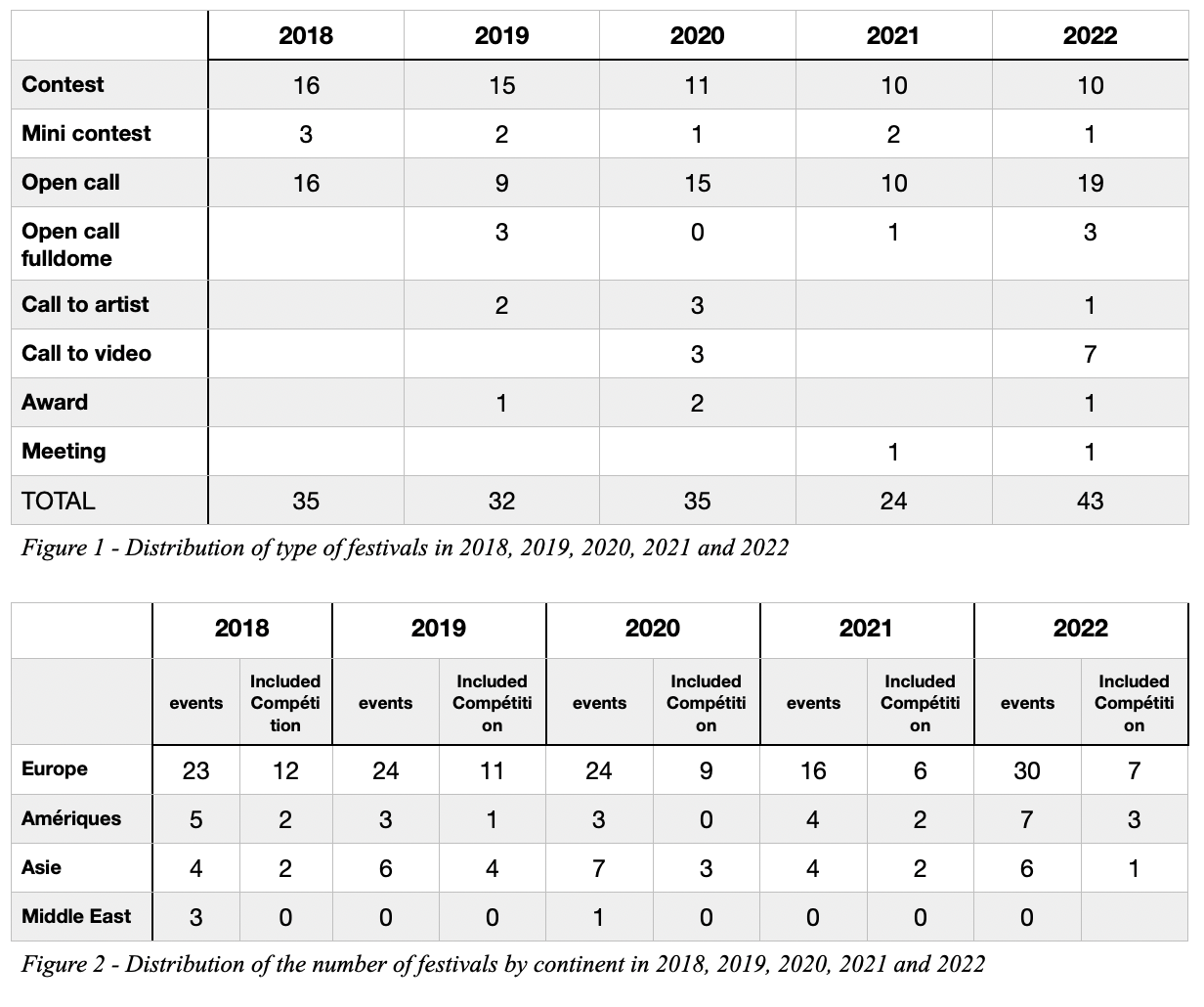 This analysis is limited by posts shared on the facebook page
2022 announced the return of the major festivals following the diminution of Covid epidemic. However, despite the high number of lights festivals, it appears that the "competition mapping" is no longer popular from the organizers. They have favored a more classical form to reach artists with #opencall or #callforprojects .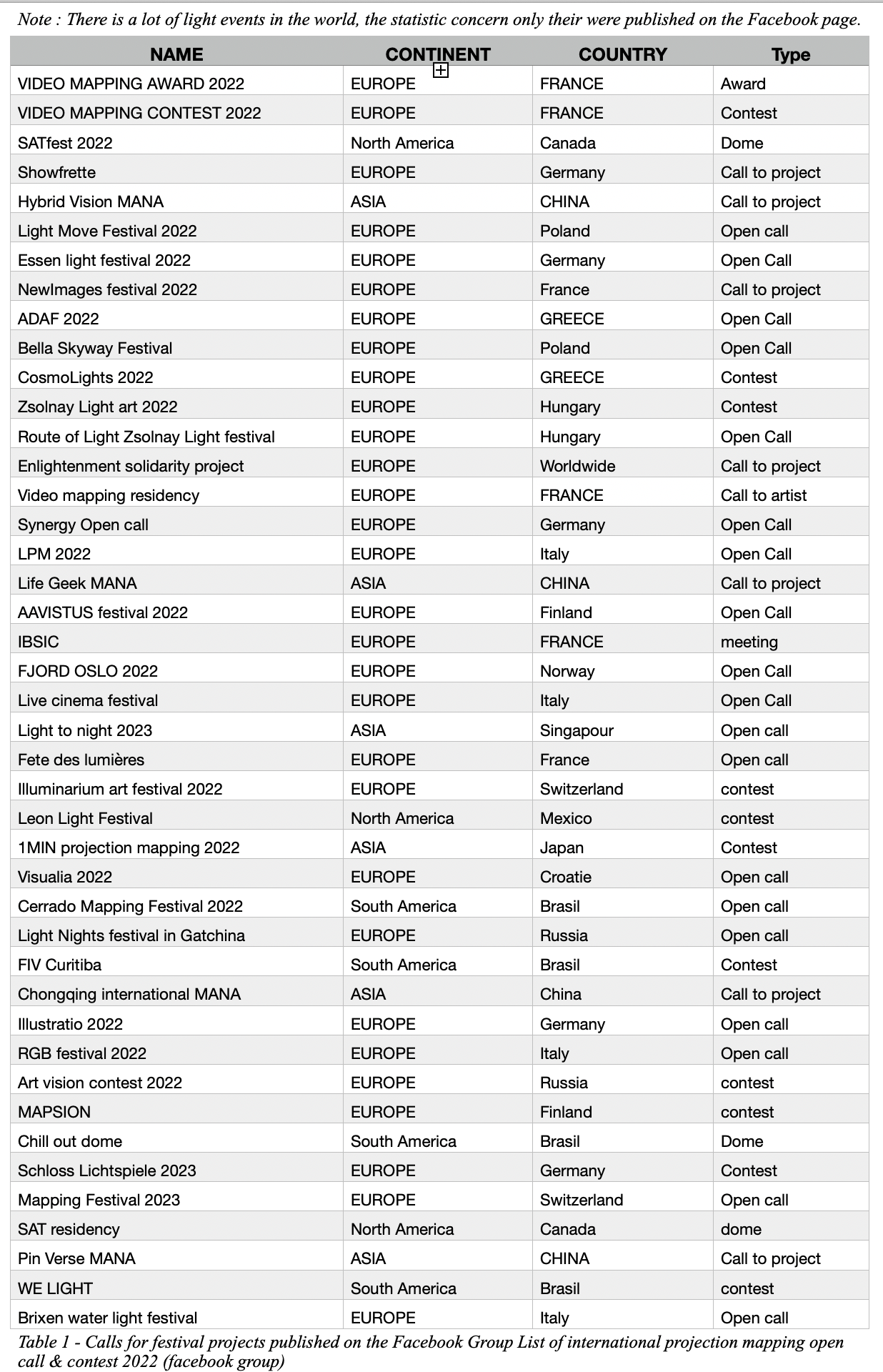 The war in Ukraine also penalizes locals festivals like the kyivlightfestival and Odessa Light festival. The Art Vision Сontest in Russia is also impacted and cancelled with geopolitical issue and artist boycotts.
The major competition iMapp, which had initiated the principle of #winnersleaguebringing together the winners of the main mapping festivals into a big competition on the parliament of Bucharest, unfortunately did not take place in 2022. However, the organizer Maxin10sity Ltd was visible everywhere, including Noor Riyadh Festival which has gathered a lot of video mappings from worldwide artists and friends in the same place.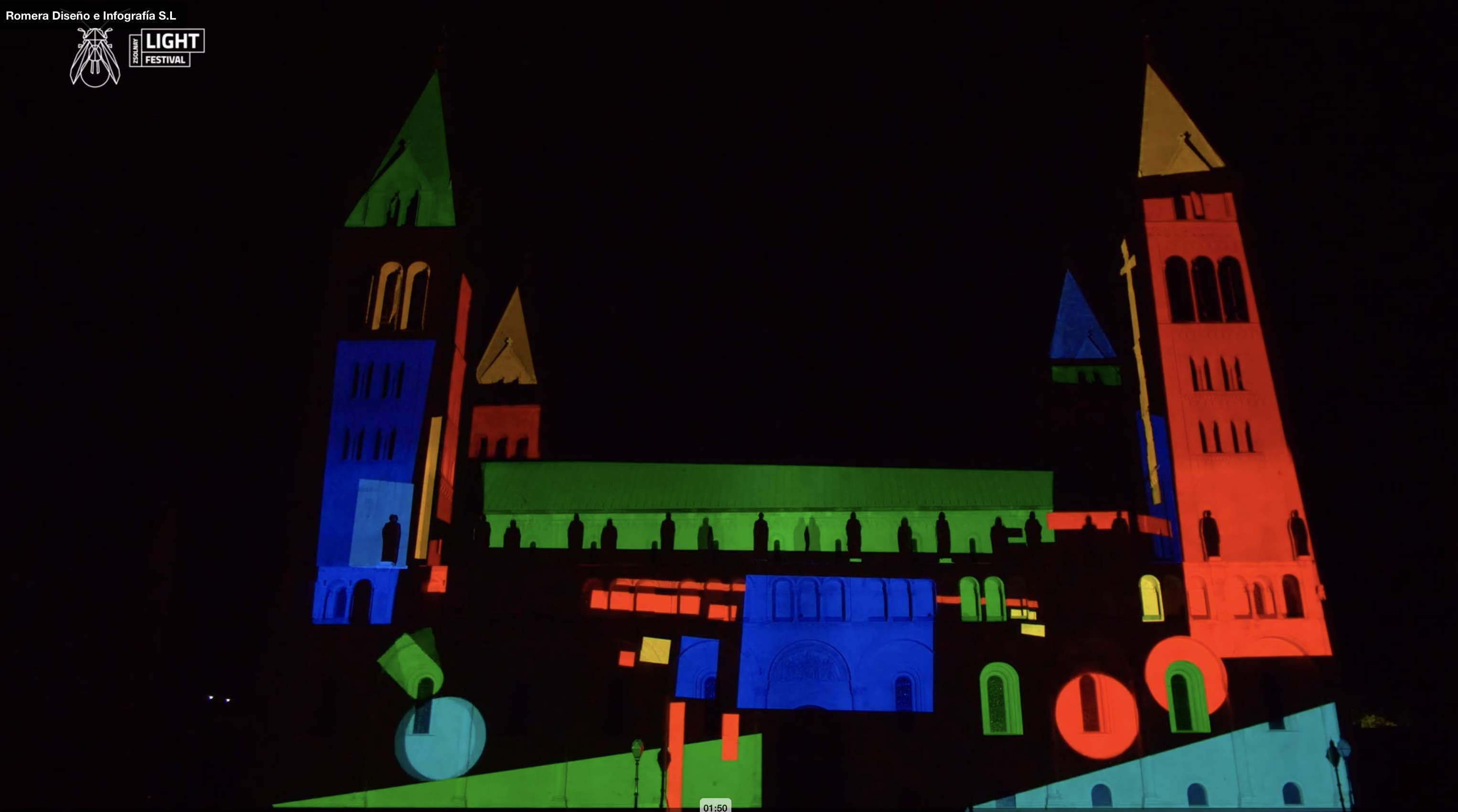 LOS ROMERAS - ZSOLNAY LIGHT ART COMPETITION 2022
The oldest and most famous competition 1minute Projection Mapping has been held twice this year due to weather conditions. This festival remains one of the best for discovering new styles. They have valued the abstract colored and dynamic work of the Hungarian EPER DIGITAL and the German RESORB who integrate in a smart way the style coming from the generation of images by AI. DECIDE KIT from Thailand also won a prize as well as the public prize - a sign of the strong capacity of Asian artists. Indeed, we also follow the worldwide adventures of the 2021 winners of the 1minPM festival THE FOX, THE FOLKS from Indonesia.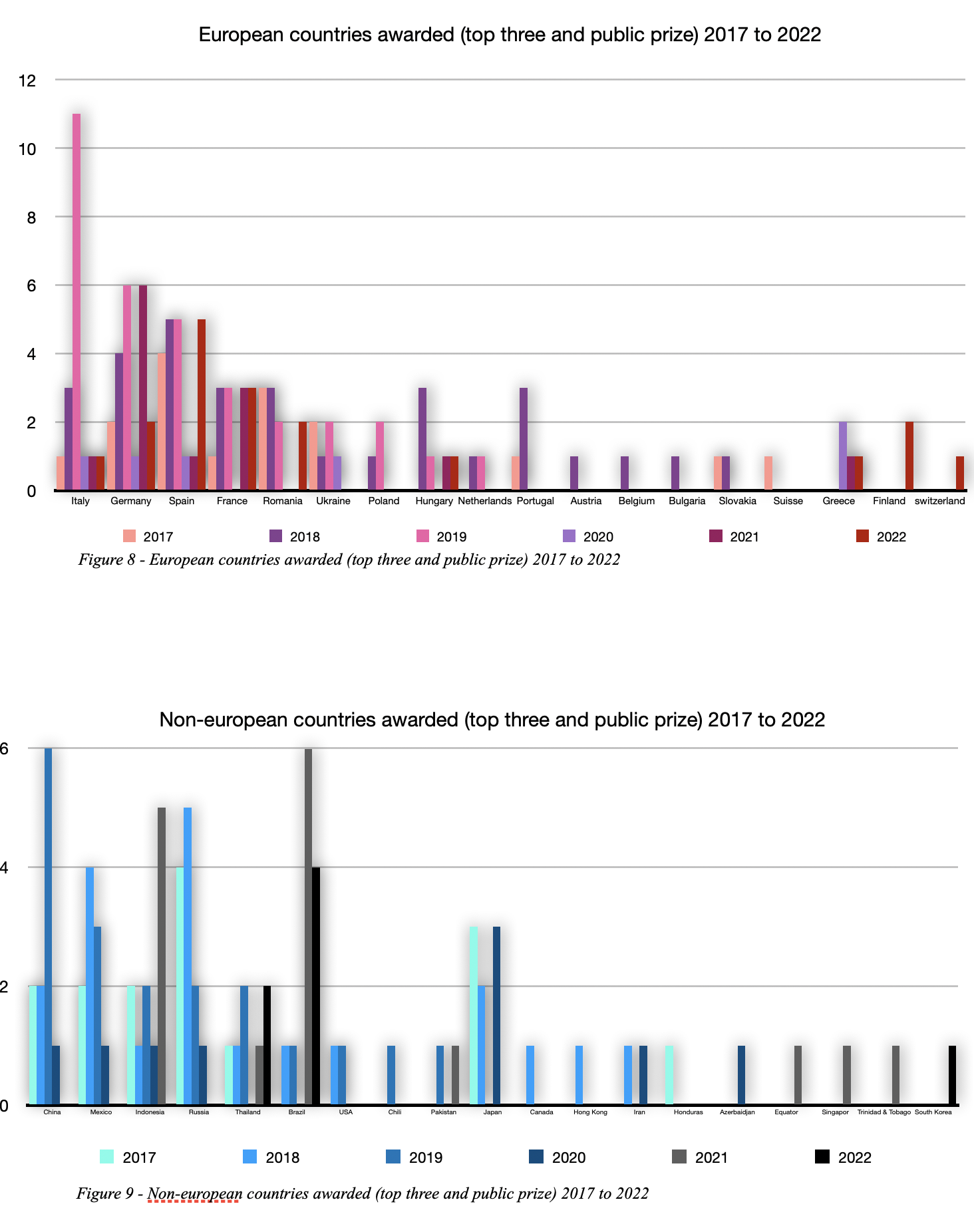 Spanish artists are very popular at the moment with the victory of our friends Hotaru visual guerrilla at the Video mapping contest organized by Rencontres Audiovisuelles in Lille. During this Lille competition, Filip Roca - from Montenegro and based in Barcelona - who also signed the mapping of the cathedral Saint Jean at the last Fête des lumières in Lyon - being the second favorite of the jury. And during the Zsolnay Light Art contest, Los Romeras has put the jury and the public in agreement for the first time. These two festivals (Video mapping contest and Zsolnay light art) are the fairest since they remunerate all the finalists assured to have financial fallouts. This system seems to work and should continue. A great example to follow for others festivals.
Smaller festivals continue their adventure like CosmoLights projection mapping in Greece, and others follow their example like the new Mapsion in Finland. There are interesting projects as a first step for new artists before moving to other competitions even though they propose limited prize money and no remuneration or travel invitation for the participants. We hope to see this type of update for the next edition !
Brazil still has his own vibrant microcosm of VJ artists. Several competitions took place there this year like We light Floripa and the FIV in Curitiba. Nevertheless, the multitude of participants and the very limited prize packages put the question of the interest to participate for international artists. Mexico continues the student festival with the Leon Light fest although limited to Mexican students, but it is a great opportunity where the winners will surely become great artists to follow!
Finally, a new kind of competition is taking place in our artistic agendas with the competitions proposed by the Chinese platform MANA - relayed in Europe by Petra Věchtová with prizes and screenings in China at the end. These are new artistic opportunities. And 2023 starts with a mapping competiton during the International Chongqing Light Art Festival.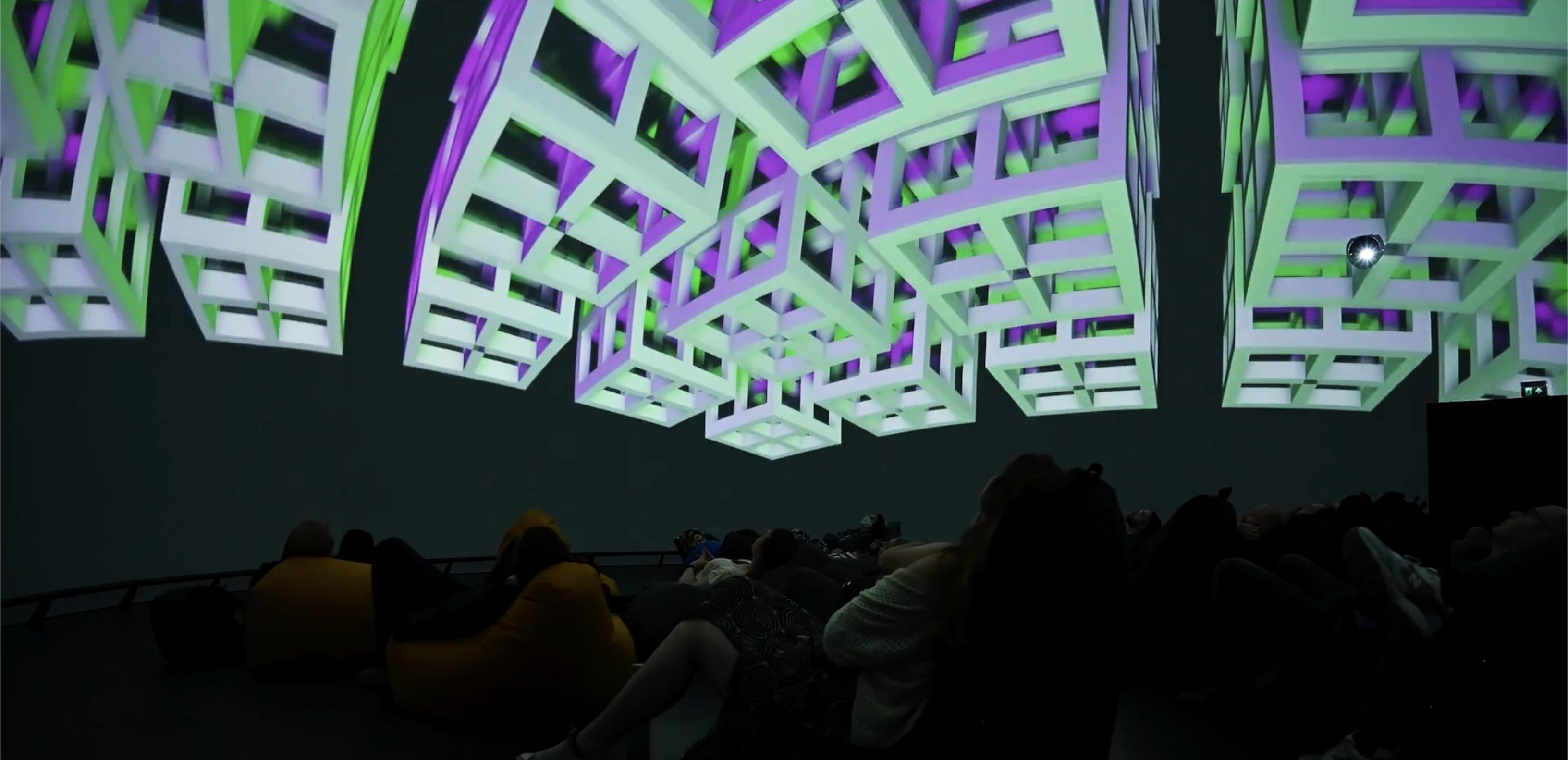 ARCAAN Collective / JEREMY OURY - FDUK 2022
About #dome and #360°, several fulldome festivals took place this year and this page has forwarded residencies from the SAT - Montreal (Mourad Bncr).
France is also present this year with the first prize for ATELIER V3 at SCHLOSSLICHTSPIELE and two public prize by Cindy Lo (Video mapping contest - Lille) and myself Jérémy Oury :-)(Illuminarium art festival - Switzerland).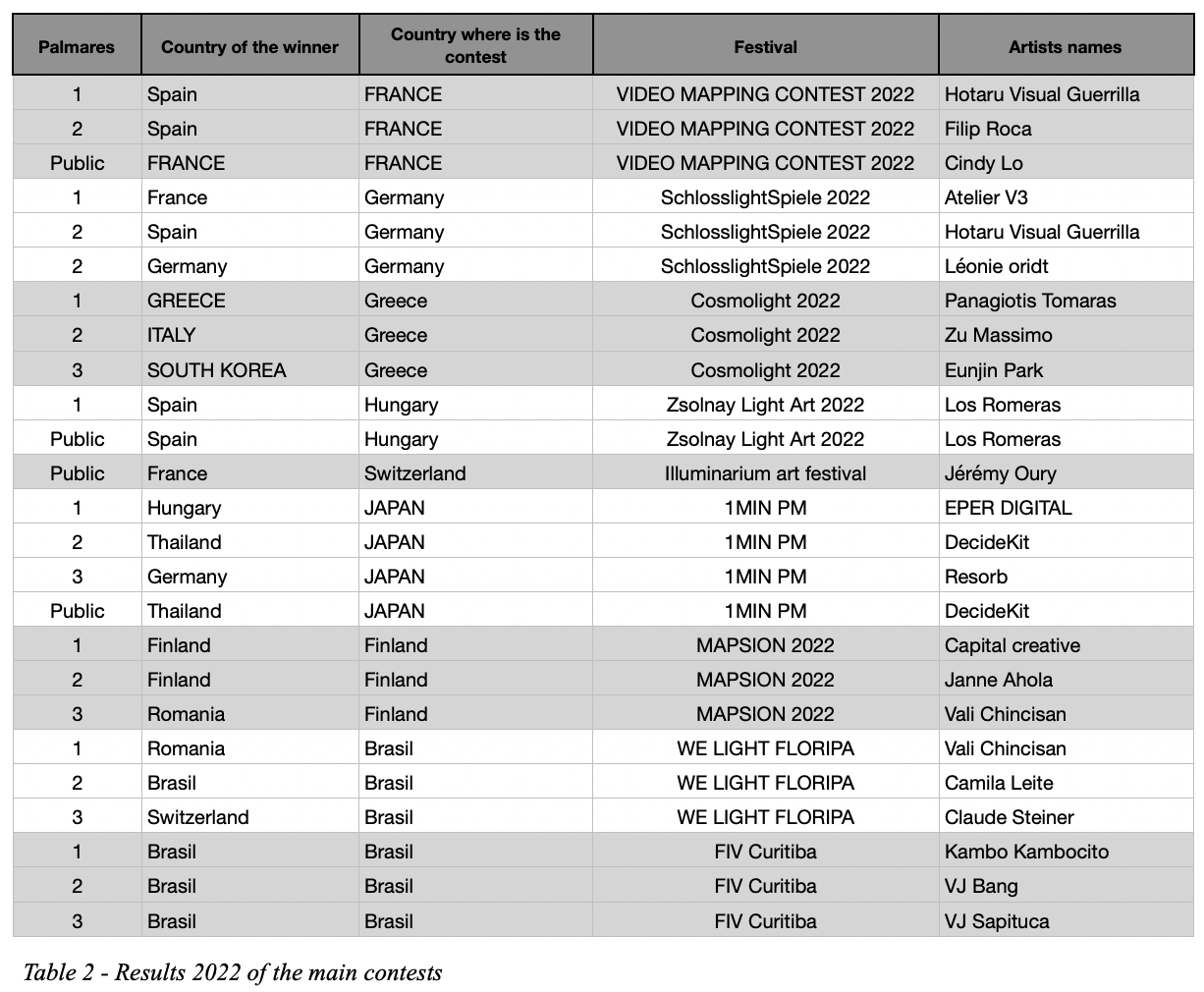 The BRIGHT FESTIVAL also continues its adventure and promotes at each edition a dozen selected artists from a country. They started with Italy, then Germany and France this year. I had the pleasure to be part of the selection to realize an immersive indoor 360° mapping among 9 others french artists. Each edition has strangely corresponded with the domination on several international festivals of artists coming from Italy in 2019 then from Germany in 2021 as we have seen on these annual analysis. Surely the next edition will concern Spanish artists ? Italy also invades the world with big mapping projects involving several Italian artists via their embassies and cultural network. These project have taken place in Mexico or recently in Scotland. It is a great initiative.
Africa is unfortunately once again absent... Well, this is not quite right. There are talented artists, festivals and mapping in several African countries (Morocco, Tunisia, South Africa, Senegal, ...). Unfortunately, they remain absent from this group, and we don't see so many African artists in international competitions.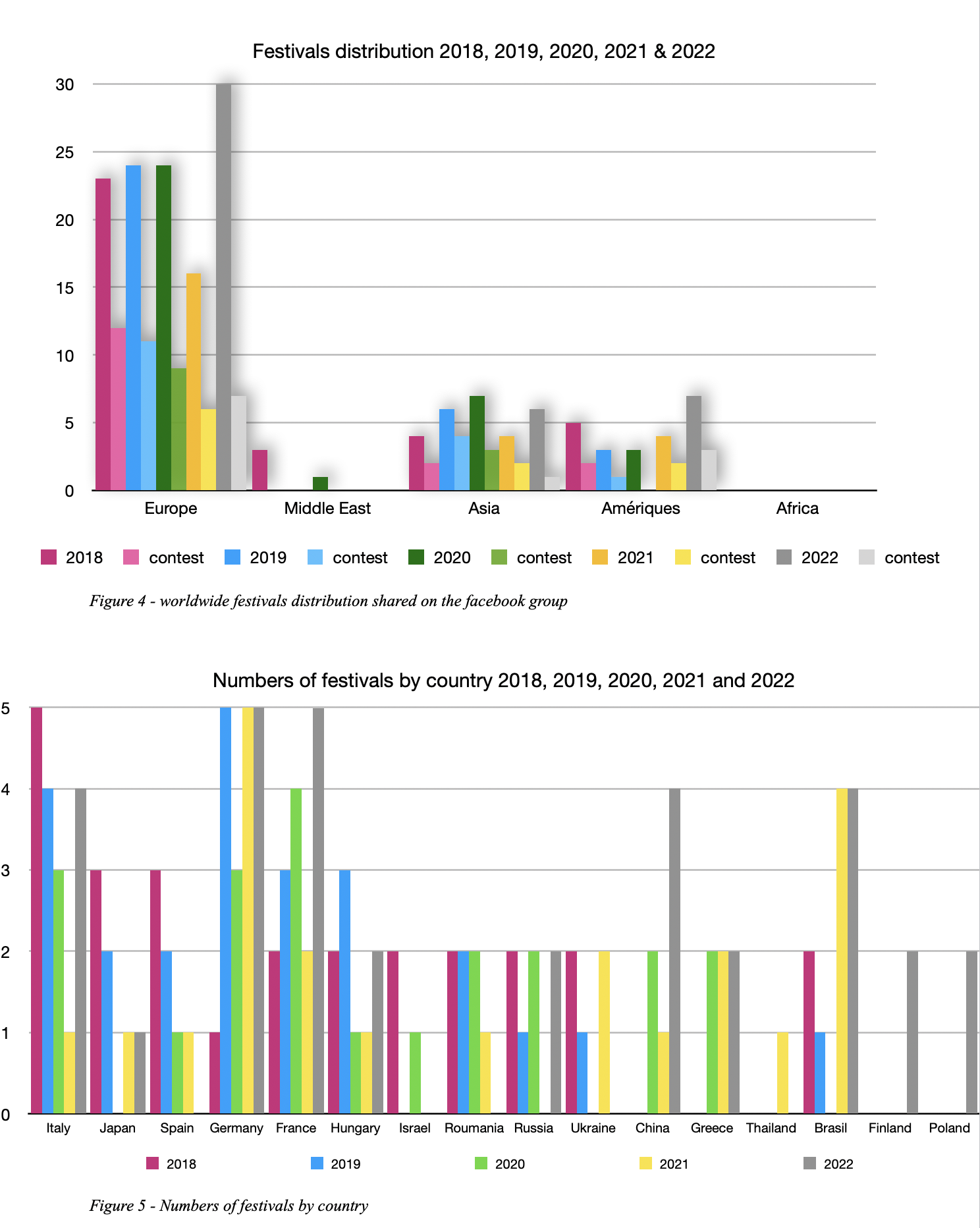 Finally, there are many international festivals of light and mapping - I focus mainly in those that have proposed a call for projects in this group. This analysis is therefore limited. There are light festivals in the USA or in the Nordic countries with interesting calls for projects especially in Finland and Norway.
France and Germany also hosts many festivals.
There is still a lot to be done so welcome 2023 !
Some informations are based on a previous article published in the book Image Beyond the Screen
#mapping #opencall #contest #digitalart #videomapping #mappingvideo #videomappingcontest #mappingcontest #mapping #videomapping #digital #contest #opencall #call #art #mappingvideo #3Dmapping #digitalart #digitalartist #digitalmarketing #article #dataanalytics #competition #artist #community #video #mappingfestival #lightfestival #mappingsphere #mappingmarketing #curation
post image : EPER DIGITAL - 1MIN PROJECTION MAPPING COMPETITION 2022